To study music, we must learn the rules.
To create music, we must break them.
Nadia Boulanger
IT START WITH -
An endless passion for music, for voices,
for discovery, for people, for life.
Biography
Navid Rahbar (born in September 4th, 1987) is an Iranian composer, Music Teacher and Producer best known for scoring Iranian TV films such as "Secret of the Moonlight (2008)" directed by "Saeed Ebrahimifar", "Ending days of Esfand (2014)" directed by "Behrooz Shoaibi".
He started playing Keyboards and Synthesizers at the age of 6. Then he managed to learn an Iranian traditional instrument in high school, called Santour. When he entered "The University of Applied Science and Technology Branch 11 – Music" he decided to learn Classical piano playing under supervision of two great Tajik piano virtuosos: Professor "Tamara Dolidze" and Professor "Delbar Hakim Ava".
Beside the university, he started to learn Sound science and Mixing basics.
He lives from 2017 in Austria/Vienna.
Music is the strongest form of magic.
IT NEVER END
Passion never die. It grows
stronger every day.
Activities
2021
-Sound Engineering
Wien im Fluss – FOH Engineer, Post-production of the video teaser
Sommerfrische (Street music festival) 4. district of Vienna – FOH Engineer
Südtirolerplatz (Street music festival) 4. district of Vienna – FOH Engineer
CHORONA Song (nach der Melodie des "Bajazzo") – Mixing Engineer
2020
-Composer
"untold…" by Navid Rahbar
-Sound Engineering
Freihausviertel am Südtirolerplatz – FOH Sound Engineer
Sommerfrische am Kühnplatz – FOH Sound Engineer
Nocturnal from Benjamin Britten after John Dowland by Saman Hadi (Classical Guitar Solo) – Video and Audio production
Sarabande from S.L. Weiss by Saman Hadi – Audio/Video Production
"Diversion" by Alisina Mohammadi – Mastering
-Education
Certified as "Audio Assistant" by HOFA College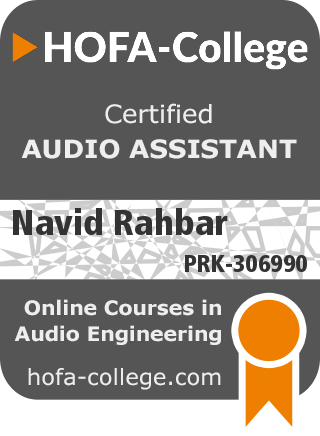 2019
-Sound Engineering
"Bad day" (Piano Cover) by Arshia Mirabdollahi – Mixing and Mastering
"Freihausviertel" Festival – Greatest street festival in Vienna
"Treffpunkt Südtiroler Platz – wo das Leben spielt" Festival in Vienna
"5th. Symphonic" Beethoven – Conducted by Masoud Kheyripour – Mastering
Violin Recital Record Session von "Milica Pajdic" in St. Canisius Kirche in Vienna
Recording Sessions by Pop Singer "Nooshin"
2018
-Sound Engineering
Record and preparing Piano stems for Artist "Amir Azimi" album "a Waltz for Janan"
Mix and Mastering "Another Brick in the Wall" by "Bella Wagner"
Record and Produced Solo Piano Album – "Unheared 2" by Siavash Damirian (In Vienna)
Record and Video Shoot Solo Singing Klassenabend in Prayner Konservatorium
Record Saxophone – Madmazel by Saeed SheykhAmiri (in Vienna)
-Keyboard Player
End of co-working with the Band "Gereh"
Live concert in Arikeh Iranian concert hall with the band "Gereh"
2017
-Keyboard Player
Gereh Live Concert in Azadi Tower Tehran
Gereh Live Concert in Fadjr Music Festival
2016
-Sound Engineering
Mixing and Mastering "Damour" Album
Mixing and Mastering "Mahmood Rahmani – Ashegh Naboodi"
Top 5 Best "Acoustic Music – Mix Engineers" in "Iranian Mix Contest" (Tablet award photo)
–Performance
Live Concert in Milad Concert Hall (Tehran) as Keyboard Player – Siamak Abbasi (Video)
Live Concert in Azadi Tower as Keyboard Player – The Ravel (Gereh Band)
Interview with a famous Iranian News Program (Fars News) – Gereh Band
2015
-Performance
Join "The Frame" Band as Keyboard Player
Live Concert In Sirous Saber Hall (Karaj-Iran) – Hamid Modiri (as Conductor and Orchestrator)
-Mixing and Mastering Engineer
"Shippers Animation" – Damour Band
"Stormy Sea" – Mostafa Adiban Rad
"I was waiting for you" – Abdol Rasoul Kargosha
"Toccata and Symphony" – Damour Band
"Modara kon" – Damour Band
2014
-Composer
-Sound Designer
Kids program announce in Channel 5 TV – Rangin Kaman
-Mixing and Mastering Engineer
"Shaneh bar zolfe parishan" – Elena Kazeminia
"Near Friday" – Omid Jalali
Multitrack Recording of live concert – AVASA Band
Video Teaser for concert – Damour Band
Supervisor of Sound Engineers for Concert – Hazhir Mehrafrooz
-Performances
Live Concert in Milad Tower (Tehran-Iran) – Hazhir Mehrafrooz
2013
-Composer
"Bacheha Biayn Tamasha" TV Show
-Mixing Mastering Engineer
Cooperating with National Symphonic Choir of Iran's Conductor – Ohanian
Azhirock Live Concert / Foldback & FOH
"Faramoush Nashodeh" – Dastsaz
"Mohammad Esfehani" Live Concert / Foldback
"Hannibal Yousef" Live Concert / Foldback
-Performance
Diaeko Band : "When All is Lost" / Keyboards [Youtube]
2012
-Composer
"Ton Ton Cartoon" Kids TV Show
"Ashena Nabash" – Pedram Niknafs
-Mixing and Mastering Engineer
"9 month and 9 days" Art Project
2011
-Composer
2010
-Composer
"Safarhaye Ostani" – Mr. President / TV Program
-Performance & Arrangement
"Fadjr Music Festival" / Keyboards
-Teaching Piano
-Teaching Sound Engineering
Private Classes
2009
-Sound Engineer
Metro 14 – Winner of top musics of underground music festival of london
2008
-Composer
"Raze Mahtab" TV Movie
"Asheghanehayi bar bad" TV Movie / Trailer Music
"Royaye Shirin" – Faraz Haghighi Far (Music Album)
"Dastane Natamam" Short Movie
-Sound Engineer
Recording Live Orchestra for a Theater Project "Father by Strindberg"
Recording tracks of the band : VON (Venerators of Nature)
2007
-Composer
"Mahe Ghermez" TV Movie
2006
-Composer
"Setareh Rooye Zamin" Documentary Movie
-Performance
Rock Concert in Tehran University with Band "VON" (Venerators of Nature)
2005
-Performance
Neo-Classical Concert in German Church in Tehran with Band "VON" (Venerators of Nature)